Community and Parent Involvement
Through researching several local schools (Gault, Delaveaga, Green Acres, and Bayview Elementary) I have come to find out that parental involvement in the classroom is strictly voluntary but highly encouraged. All of the listed elementary schools have some type of parent "club" or support group that is student centered and community based.
With the information provided and with collaboration with the rest of my group, we have decided to have mandatory parent (guardian, relative, sibling, etc) classroom contribution of one full school day at least once a month. If a family member cannot make it for that weekday, they can contribute by teaching a workshop, organizing a family event, or helping at the Community Center.
We feel that with this mandatory service, the families are able to build a strong community bond as well as connect with what their children are learning in school.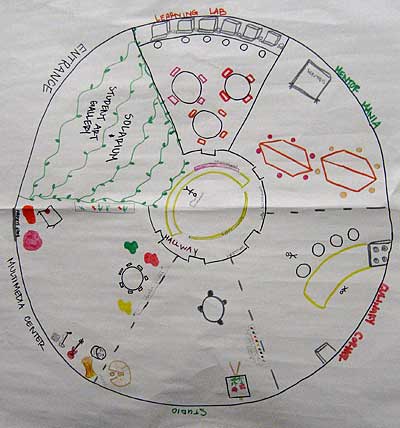 The Community Center
Located on top of the school auditorium the Community Center will be home for the community outreach staff, resource materials and spaces for workshops, lectures, classes, studio art, gallery art and other event spaces.